On the Catholic Priesthood
Sunday July 21, 2019
Supernatural Institution
The priesthood is a supernatural institution, charged, from the time He was promised to the world, with representing Christ: with figuring Him and prophesying Him before His coming, with continuing Him, serving as His instrument and organ since His advent; and as human paternity reminds us of the Divine paternity; as the regal office among men shadows forth the sovereignty of God; as the idea of sacrifice is explained by that of sin and expiation, so does the priesthood presuppose and show forth not Christ only, but the whole of Christianity which is summed up therein.
Source: Catholic Doctrine as defined by the Council of Trent by the Rev. A. Nampon, S.J.

Posted at 09:26PM Jul 21, 2019 by VP in Articles | Comments [0]
Saturday July 20, 2019
Absence of Vocations to the Priesthood
To what shall we attribute the absence of vocations to the priesthood, of which we are compelled to make complaint?
It the cause in the absence of vigorous Catholic faith - a faith grasping in its narrow range of vision the fullness of the
responsibilities that a plenary loyalty to the Savior imposes upon His followers - a faith prompt to the call of those
responsibilities, ready in generosity of soul and willingness of sacrifice to obey their every behest?
At first sight, this, I confess, would seem to be the cause. Where Catholic faith reigns supreme, youths not the few
there should be to rise in aspiration and self-consecration to the mountain-tops where the rays of the supernatural
shine the brightest and unfold in clearest light the splendors of divine life. Youths not the few there should be to
instantly answer the call from on high: "Speak, O Lord, for Thy servant heareth Thee. " The call from on high is surely
spoken, since it is His will that the Church be supplied with priests, and His call it to the whole Church. To every land,
in every diocese, to every parish the word is said, once said to Simon and Andrew - "Come follow me." Now, where
this call is the voice crying in the wilderness, should we not be tempted to believe that there something is awry, that
their Catholic faith is somewhat weak and timid? In an army of soldiers the general level is low, where all clamor to
be led, where none are willing to lead, where none spring to battle, so soon as the commander speaks, and rush to
the heights of valor and sacrifice.

Given the community of Catholics, which seldom or never makes offering of a candidate to the priesthood - given the
diocese, unable to supply itself out of its own bosom with a full legion of priest - what the verdict it at once suggests!

Is it not this - that faith there is weak, unable to do more than hold its life, without ever bursting forth into luxuriant leaf
or blossom? Is it not this - that the soil, into which the divine word is cast, is wanting in native nutriment, or is without
that art of cultivation which not only begets the common crop of plant and shrub, but, now and then, here and there,
bids upward the tall tree, the fragrant rose-bush, where with to adorn the landscape and cause the passerby to pause
and be gladdened?

The cause is this - people and priests have not been asked to advert to the problem confronting us, have not been
made to understand its bearings and the obligations it imposes. A trumpet sound is in order to re-echo far and wide,
proclaiming needs and duties, summoning priests and people to the charge to the work, which once seen will surely be done.

Source: The Maine Catholic Historical Magazine


Posted at 12:00AM Jul 20, 2019 by VP in Articles | Comments [0]
Friday July 19, 2019
Church Losses
We become so accustomed to rejoicing in the many accessions daily coming into the Church from
among the well disposed who are ever seeking that peace and contentment, that tranquility of life
which the possession of the true faith alone can give, that we not un-frequently lose sight of the losses
incurred by the Church through the negligence of those who once claimed the honor of membership in
her fold. Nothing is perhaps sadder than to unravel the history of a Catholic who has been unfaithful to
his great trust, for it is then that the results which might have been, dawn on us, and we see how utterly
impossible it is to repair the loss.

Just to illustrate: A few years ago, a lady well along in years came to see a priest about being received
into the Catholic church which her mother had left on the occasion of her marriage. She told the priest
that she was one of seven children, four of whom had married and had become the parents of twenty-four children.

"Your mother, then," rejoined the priest, "was responsible for the loss of her own seven and in all probability
of her twenty-four grandchildren, making in all a known loss of 31 members suffered by the church, through
her defection."

Like many another weak and careless mortal, she had gone on through life, unconscious of the havoc her
defection had wrought in the Lord's fold, or unmindful of the awful responsibility laid upon her, and the great,
untold, immeasurable damage for which she would one day have to answer. The fact is real: it is only one
of the many which almost constantly come to the experience of a priest on the missions: and while from his
heart he may deplore and pray for the wandering member of the House of Israel, he must leave to the
recording angel the sad task of summing up the souls thereby lost to God's eternal kingdom.

Source: Maine Catholic Historical Magazine, 1916


Posted at 12:00AM Jul 19, 2019 by VP in Articles | Comments [0]
Thursday July 18, 2019
Priestly Vocation in Christian Families
The blessing of Heaven upon a Christian family is the gift of a priestly vocation to one of its children.
It is the reward of the fidelity to God; it is the sure mark of such fidelity. There are families, where,
short of a special miracle of grace, a vocation never germinates, or if somehow it is there born, it
quickly withers and dies. Those are the families, where the usual atmosphere is repellent, to the
sweetness and comeliness of Christian life, where the example of parents so lowers the spiritual tone
of the child, that it banishes from his mind all supernal thought, from his heart all freshness of grace
and purity. In quest for vocation, we must first discover the Christian home, the Christian father and
mother. Granted to a parish, or to a diocese true Christian families, vocation will not be wanting.
They are the choice flowers of the well-cultivated garden, whose soil is rich, whose nutriment is the
descending dew of the skies. The Christian home is the nursery of vocations; other agencies - presbyteries,
colleges or seminaries - are the mere helpers to growth and development.

Source: Maine Catholic Historical Magazine 1916
Posted at 12:00AM Jul 18, 2019 by VP in Quotes | Comments [0]
Wednesday July 17, 2019
Grace of Priesthood
If the Christian priesthood is raised so far above the Jewish in its nature and mode of transmission,
it is also contrasted with the Jewish priesthood in the grace and clemency of its origin. I have stated
that the Jewish priesthood began in the slaughter of sinners; whereas our Lord consecrated the hands
of the Apostles, not in the blood of sinners, but in His own Precious Blood, about to be shed for sinners,
when He instituted the most holy Sacrifice and Sacrament of the Altar. Therefore, at the present day the
hands of the priest are anointed at his ordination with the holy oil, which typifies not justice, but mercy.

For functions such as those of the Christian priest, great graces are required, and great virtues may be
demanded. We cannot have sinless priest, yet the candidate must be "without crime, holding the mystery
of the faith in a pure conscience" ( I Tim. iii. 9). Let anyone compare the list of virtues mentioned by
St. Paul in his Epistles to St. Timothy and ST. Titus, with the list of bodily or physical qualities enumerated
by Moses as necessary for the Jewish priest, if he would understand the difference between the two covenants.

Source: Reapers for the Harvest, a treatise for laymen and women by the Rev. T.E. Bridgett, C.Ss.r.
Posted at 12:00AM Jul 17, 2019 by VP in Meditations | Comments [0]
Tuesday July 16, 2019
Celebrate Worthily
"One would need to be a Saint to celebrate worthily. When we are in Heaven, we will appreciate the value
of the Mass and how often we have said it without due reverence, or worship, or recollection."

Source: Saint John Mary Vianney (The Priest in Union with Christ, Fr. Reginald Garrigou-Lagrange, O.P.)
Posted at 12:00AM Jul 16, 2019 by VP in Quotes | Comments [0]
Monday July 15, 2019
Consecrated Life
"If we would only bear in mind, dearly beloved brethren, the exalted character of the things that the Lord God has placed
in our hands, what unbounded influence would not this have in impelling us to lead lives worthy of ecclesiastics!
Has not the Lord placed everything in my hand, when He put there His only-begotten Son, co-eternal and coequal
with Himself? In my hand He has placed all His treasures, His sacraments, His graces; He has placed there souls,
than whom nothing can be dearer to Him; in His love He has preferred them to Himself, and redeemed them by His
Blood; He has placed heaven in my hand, and it is in my power to open and close it to others . . .

How, then, can I be so ungrateful for such condescension and love as to sin against Him, to offend His honor, to pollute
this body which is His? How can I come to defile this high dignity, this life consecrated to His service?"

Source: St. Pope Pius X (To the Catholic Clergy on Priestly Sanctify)

Posted at 12:00AM Jul 15, 2019 by VP in Quotes | Comments [0]
Sunday July 14, 2019
A Bed-Ridden Priesthood
Oh! it is good to stand each day,
A trembling, happy priest,
And offer up the Victim-God
And taste the heavenly feast.

But it is better yet to lie
Helpless, alone and still,
God's victim on a bed of pain,
A martyr to His will.

To feed on Jesus is the life
Of all th'angelic host,
To suffer and to sigh for Him
No seraphim can boast.

Source: Rev. Edmund Vaughan, C.SS.R.
Lyra Hieratica: poems on the priesthood / collected from many by Fr. Thomas Edward Bridgett,, 1829-1899.

Posted at 09:30PM Jul 14, 2019 by VP in Poetry | Comments [0]
Thursday July 11, 2019
A Priest Forever!
It is significant that Holy Orders is one of the three Sacraments that impress an indelible seal or mark on the soul,
called character. It implies a special consecration to almighty God, and is a reminder that the person thus sealed
or marked should walk worthy of the character he bears, either as a child, a soldier, and, above all, a priest of the true God.

Once a priest, a priest forever, whether he tread in the footsteps of John and Augustine, or of Judas and Arius.

Source: A Pulpit Commentary on Catholic Teaching: The liturgy of the ecclesiastical year
Posted at 12:00AM Jul 11, 2019 by VP in Quotes | Comments [0]
Wednesday July 10, 2019
Pray!
Pray, then, for the young Levite, who says his first Mass today, that the grace of Holy Orders
planted in his soul may bear fruit abundantly, and ever aid him in his high and arduous office.

Pray the Lord of the Vineyard, that He may send laborers into His vineyard, men "powerful in
work and word"; men with wills of steel, and hearts of gold, men of light and leading, trained like
St. Paul, in the best of all schools, that of "Christ and Him crucified."

Pray for him and all, remembering that they carry the great grace and responsibilities of Holy Orders,
"in vessels of clay. " And whilst availing yourselves of their ministrations in the great work of saving
your souls, do not fail to thank God, "who hath given such power to men."

Source: Holy Orders by the Rev. William Graham

Posted at 12:00AM Jul 10, 2019 by VP in Quotes | Comments [0]
Tuesday July 09, 2019
Holy Orders
Priests are, in St. Paul's words "the dispensers of the mysteries of God." They thus guard and administer the channels of grace. We may say, therefore, with truth, that Holy Orders is the fountain of spiritual life in the Church. It is the source of all the streams of grace that water the garden of God. Without Holy Orders the world, spiritually, would be a wilderness. It would like under perpetual interdict.
The city of God, alive today with the hum of prayer, and praise, and sacrifice, would be, without Holy Orders, like a city of the dead, as silent and lifeless as the grave. So pressing is the need of a priesthood, that where the churches are closed or desecrated, and the true priests slain or driven away, they get soon re-opened; and if the altar and true sacrifice are not restored, they are replaced by a table or reading desk, and a sham clergy put in to take the place of real sacrificing priests. If men cease to worship the true God by the one true sacrifice, through the one true priesthood, they take to themselves false ones. Divine worship of some sort is a social need.
Hence, the devil's best weapon in his war with Christ is the removal or corruption of the clergy, the drying up, in fact, or poisoning, the wells of Holy Orders. All the great persecutors, from Nero downwards, have mainly aimed their death-blows at the heads of the clergy. "Scatter the shepherds, and the flocks will be dispersed." is their motto.

Posted at 04:27PM Jul 09, 2019 by VP in Quotes | Comments [0]
All Glory to the Blood of Jesus
"The Precious Blood has doubtless always been honored in the Church by devotion to the Passion and Holy Eucharist, but It requires, It exacts a particular homage in our days, since hell, whose hatred for It is extreme, has caused It to be particularly trampled upon and despised...Careless and indifferent Christians, though well aware that is was sin which caused Its most painful effusions, incessantly commit the self-same sins. Jesus complains of this by the mouth of the Prophet: "Of what avail is My Blood? and asks for some return for the world's ingratitude towards the Price of our Salvation.
source: Devotion to the Precious Blood

Posted at 12:00AM Jul 09, 2019 by VP in Books | Comments [0]
Friday July 05, 2019
Aspirations for Each Day: July 5
Eternal Father! I offer Thee the merits of the Most Precious Blood of Jesus, Thy beloved Son and my divine Redeemer, for all those who shall this day pass to another life, that Thou mayest deliver them from the pains of hell, and admit them the more readily to the possession of Thy Glory.
V. Glory be to the Father, and to the Son, and to the Holy Ghost.
R. As it was in the beginning, is now, and ever shall be, world without end. Amen
Blessed and praised for evermore be Jesus, who hath saved us with His Blood!

Posted at 12:00AM Jul 05, 2019 by VP in Meditations | Comments [0]
Offerings to the Divine Incarnate Word of His own Most Precious Blood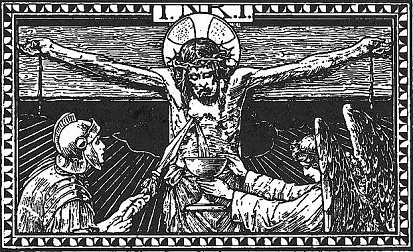 O most Holy Word! I offer Thee Thy priests, and in their behalf I offer thee whatever is most dear to Thee in heaven and on earth, in union with all Thy Most Precious Blood: and I pray Thee to enable them fitly to conceive of the high degree to which they are exalted, and to hold in extreme abhorrence whatever can dishonor their dignity or contaminate their lives.

O most Loving Word! I offer Thee the Virgins consecrated to Thee, and in their behalf I offer Thee the Most Precious Blood which Thou didst sweat in Thine Agony, in the garden. I place these doves in their own nest, and these lilies in their garden, Thy most amiable Heart; and I pray Thee to make them know the height of the vocation to which Thou hast called them, and faithfully correspond to Thy love.

O Eternal Word! I offer Thee all the faithful sons of Holy Church, Thy Spouse, members of that body of which Thou art the Head; and I offer Thee in their behalf the Most Precious Blood which Thou didst shed in Thy scourging: I pray Thee to cause them to remember the solemn renouncement of the world, the flesh, and the devil, which they made in baptism; and that they may lead such lives as will not bring discredit on the faith which they profess.

O Divine Word! I offer Thee all poor sinners, and in their behalf I offer Thee the Most Precious Blood and Water which issued from Thy sacred Side when pierced by the lance. I pray Thee to wash the stains from their souls in this Blood and Water, and to grant that, with a timely repentance, they may, by returning love for love, make up for the sins they have committed against Thee.

O Eternal Word! I offer to Thee all heretics, and in their behalf I offer Thee that Most Precious Blood which Thou didst shed from Thy Body, all wounded as it was, when Thou wast stripped to be crucified. I entreat Thee to have compassion on these poor sheep, which, separated from Thy fold, are on the way to lose themselves in the paths of error and obstinacy; and place them in the bosom of Thy Church, where alone truth and safety are found.

O Divine Word! I offer Thee all infidels, and in their behalf I offer Thee the Most Precious Blood which Thou didst shed from Thy sacred Head when crowned with thorns. I beseech Thee to remember that these souls also are the work of Thy Hands. Enlighten them, that they may know their true and only God, and their Savior; that they too may be made partakers of the grace of the Sacraments, and of our common redemption.

Eternal Father! I offer Thee the intense pains which Thy only-begotten Son did suffer, during the three hours that he was nailed to the Cross for love of us; particularly when, in the intensity of His grief and abandonment, He exclaimed, " My God! my God! why hast Thou forsaken me?" I offer them to Thee in behalf of all those in their agony, together with the Blood that flowed from His five wounds; that they, by the power of this Blood, may be fortified and defended against all temptations, and may reach the port of eternal bliss.

O most merciful Word! I offer to Thee all the holy souls in Purgatory, and in then- behalf I offer Thee Thy most Precious Blood. I beseech Thee to grant that this sacred fount of comfort may incessantly flow to mitigate their pains, and to hasten their release, that so they may quickly come to be united with Thee in that glory to which they are destined. Amen.

O Eternal Father! I offer Thee the love which Jesus Christ, Thy Son, testified towards the human race during the whole course of His Passion, and especially in the pain which He endured in the hiding of the Beatific Vision from the lower part of His nature. I pray Thee that Thy complacency in this love may so delight Thee, that Thou mayest mercifully vouchsafe to overlook the many offenses committed against Thee in the world at this time.

Seven Glorias in honor of the Most Precious Blood.
Source: CAPG

Posted at 12:00AM Jul 05, 2019 by VP in Prayers | Comments [0]
Thursday July 04, 2019
They Say I Do not Love Thee
They say I do not love thee,
Flag of my native land,
Whose meteor-folds above me
To the free breeze expand;
Thy broad stripes proudly streaming,
And thy stars so brightly gleaming.

They say I would forsake thee,
should some dark crisis lower;
That, recreant, I should make thee
Crouch to a foreign power;
Seduced by license ample,
On thee, blest flag, to trample.

False are the words they utter,
ungenerous their brand,
And rash the oaths they mutter,
Flag of my native land;
While still in hope, above me
Thou wavest - and I love thee.

They say that bolts of thunder,
Hurled by the Pontiff's hand,
May rive and bring thee under,
Flag of my native land,
And with one blow dissever
My heart from thee forever.

God's is my love's first duty,
To whose eternal name
Be praise for all thy beauty,
Thy grandeur, and thy fame;
But ever have I reckoned
Thine, native flag, its second.

Woe to the foe or stranger
Whose sacrilegious hand
Would touch thee or endanger,
Flag of my native land!
Though some would fain discard thee,
Mine should be raise to guard thee.

Then wave, thou first of banners,
And in thy genial shade
Let creeds, opinions, manners
In love and peace be laid;
And there, all discord ended,
Our hearts and souls be blended.

Stream on, stream on before us,
Thou labarum of light,
While in one general chorus
Our vows to thee we plight;
Unfaithful to thee? - Never!
My country's flag forever.
written by Rev. Dr. C.C. Pise, who died in 1866. Fr. Pise was the only priest to act as chaplain of the United States Senate.
Source: Our Young People Company, 1916

Posted at 12:00AM Jul 04, 2019 by VP in Poetry | Comments [0]