"The violence of the enemy is always directed against those priests who are most generous and most loyal. The more you are like your Divine Model, your Savior and your God, the more certainly will you be the target for the calumnies, the abuse and persecutions of the wicked.

The disciple is not above his Master. If they have persecuted Me, said Jesus Christ to His Disciples, they will also persecute you. You shall be dragged before tribunals, you shall be scourged, you shall be cast into prisons, you shall be condemned to death.

Priest of God, you knew all this, you were aware of the dangers of your mission, and you cheerfully accepted the burden. You are a priest because you wished to be one; you saw before you conflicts, contradictions and trials of every sort; still you did not hesitate, you said generously with St. Thomas: Let us also go that we may die with Him."

-- Jacques Nicolas et Rev. P. Millet, S.J.
(Jesus Living in the Priest: Considerations on the Greatness and Holiness of the Priesthood, 1901)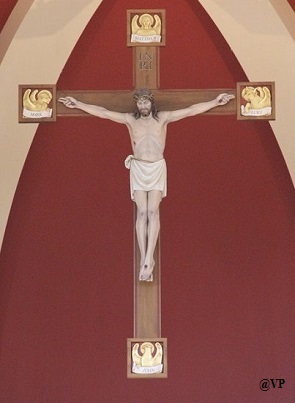 Act of Adoration for Priests

Lord Jesus Christ, Priest and Victim, behold, I kneel before Thy Eucharistic Face on behalf of all Thy priests, and especially those priests of Thine, who, at this moment, are most in need of Thy grace. ( Here make mention of priests for whom you wish to pray ). For them and in their place, allow me to remain, adoring and full of confidence, close to thy open Heart,hidden in this, the Sacrament of Thy Love.

Through the maternal and Immaculate Heart of Mary, our Advocation and the Mediatrix of All Graces, pour forth upon all the priests of Thy Church that torrent of mercy that ever flows from Thy pierced Side: to purify and heal them, to refresh and sanctify them, and at the hour of their death, to make them worthy of joining Thee before the Father, in the heavenly sanctuary beyond the veil, where Thou art always living to make intercession for us. (Heb. vi. 19; vii. 25) Amen.

Eucharistic Face of Jesus, Sanctify Thy Priests!

With permission
Benedictine Monks of Stamullen,Silverstream Priory, Ireland