"Still her enemies arise anew to taunt her in the modern day. She is called on by modern religion to come down from her supernatural viewpoint and become humanitarian; she is called by modern morality to come down from her high standards of celibacy and virginity, of indissoluble marriage, of marriage's sanctity; she is called upon by modern skepticism and unbelief to come down from her belief in such a thing as Truth, the existence of God and the Divinity of Christ. All together call upon the Catholic Church to come down and mingle as one among many and change her standards to suit the modern mind. And they threaten that is as she will not come down, then she must die."

-- Bishop Hafey, Easter Sermon 1932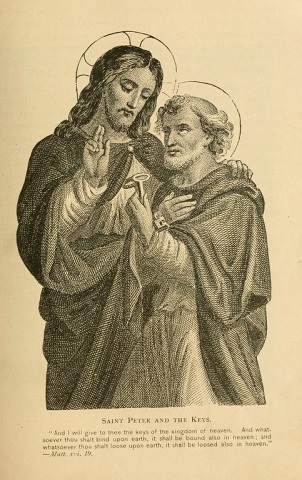 A Prayer for the Church

O God, by Thy Holy Name have pity on us, protect us, and save us.

O Good Jesus, in thy sweet Name guard our Sovereign Pontiff; breathe into his soul the spirit of the Comforter.

Jesus, thy Church is menaced with great trials! Holy Father, by the virtue of thy salutary Name protect the Church of Jesus Christ. This was the last will of thy Divine Son; it is the holy prayer which love prompted towards the end of His life. Holy Father, keep in thy Name those thou hast given me (St. John Chap xxvii 11)

O most holy and worthy Mother, refuge of the Church, intercede for us and save us by the Name of our Lord Jesus Christ.

St. Michael and the Holy Angels, guard the bark of Peter, disperse its enemies by the Holy Cross of our Lord Jesus Christ.


Venerable Marie de Saint Pierre, Holy Face Devotion, Work of Reparation 1885