"And St. Anselm holds that the proper office of a priest is to preserve souls from the corruption of the world, and to lead them to God. Hence the Lord has separated priests from the rest of mankind, that they may save themselves and others."

-- Saint Alphonsus Liguori (The Dignities and Duties of the Priest)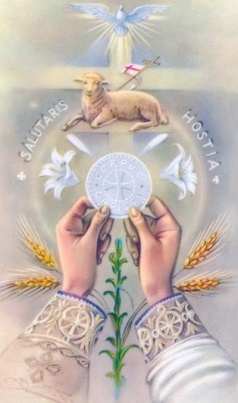 Prayer before the Blessed Sacrament for Vocations

O God, Our Father, You have called us in Baptism, to follow Your Son through lives of living service to You and to one another. Grant us Your assistance as we seek to live out our vocation in life.

We pray especially for those who have answered Your call as priests, brothers, sisters, and deacons. Keep them faithful in following Your Son, and dedicated in serving You, in their brothers and sisters. Grant that many more men and women will be open to the challenge of dedicating their lives in the ministry of building Your Kingdom.

Jesus, High priest and Redeemer, we ask You to call men and women to Your service as priests and religious. May they be inspired by the lives of dedicated priests, brothers and sisters.

Holy Spirit, give to parents the grace of generosity and trust toward You and their Child, so that their sons and daughters may be helped to choose their vocation in life with wisdom and freedom. We ask all of this through Christ, Our Lord. Amen.