"The souls in Purgatory can do nothing for themselves, but they can do much for their benefactors."

-- St. John Vianney (The Curé d'Ars Today, Fr. George Rutler)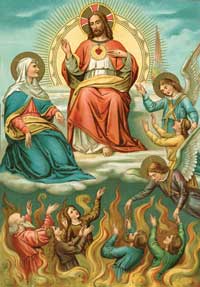 Prayer for the Poor Souls to Intercede for the Cardinal Electors

O Mother of Sorrows, as you held the Body and Blood of your Divine Son upon your breast as His Soul went down among the dead to free them and grant them the Blessed Vision of His Divinity, so assist Holy Church as she bears this same Body and Blood on her altars and entreat your Son to descend again among the dead and free the souls of departed cardinals, and the souls of the departed parents, brethren, friends, and benefactors of Cardinal [ name ], that they might be powerful and grateful intercessors on his behalf to elect as Roman Pontiff the one who is most pleasing to God and helpful to the faithful, and strong against the enemies of Christ's Mystical Body on earth. To this end I apply to this cardinal's dead the indulgence offered as I pray.

Memorare: Remember, O most gracious Virgin Mary, that never was it known that anyone who fled to thy protection, implored thy help, or sought thine intercession was left unaided. Inspired by this confidence, I fly unto thee, O Virgin of virgins, my mother; to thee do I come, before thee I stand, sinful and sorrowful. O Mother of the Word Incarnate, despise not my petitions, but in thy mercy hear and answer me. Amen.